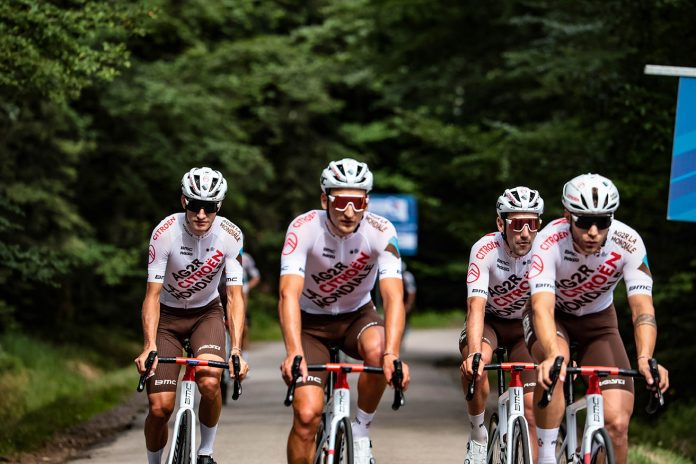 If the quality of training is the main performance factor for a professional cyclist, nutrition is an essential part of the success of the objectives set.
Not only is it important to ensure a complete daily intake of all essential micronutrients (trace elements, minerals, vitamins, essential fatty acids), but it is also vital to ensure adequate intake during training sessions, race days or recovery times. NAMEDSPORT> offers complete solutions for each need and each moment in the sporting life of the AG2R Citroën team riders.
Around the efforts, the fundamental needs are simple to identify: it is necessary to be able to maintain a good hydration, to compensate the mineral losses, and to bring energy substrates to hold the planned intensities. To answer these crucial questions, the AG2R Citroën Team riders use an effort drink, energy bars and gels.
The HydraFit> effort drink, with its thirst-quenching taste, its complete mineral formula combining Potassium, Magnesium in addition to the usual Sodium, Vitamins C and B6, and its hypotonic dosage allows to combine digestibility and efficiency in all circumstances.
If an effort drink is an essential pillar of the realization of such efforts, it cannot be sufficient to provide the necessary energy sources. We will therefore use a few Energybar, as long as the efforts are not of too high an intensity. Their very diverse and pleasant flavours allow you to vary the pleasures, while providing the necessary nutrients.
On the other hand, when it comes to high-intensity efforts, the nutrients must be absorbed more quickly to avoid "sluggishness". In these conditions, such as for a long day at the front, with several big passes to cross, there is nothing like Isotonic Power Gel> that can be used in addition to HydraFit>.
Ensuring a quick recovery is essential to keep going during the big tours. Nutrition plays a big role in the 21 days of racing that these exploits demand of exceptional bodies. Recovery means rehydrating, but also reintegrating the minerals and trace elements lost during the effort. It also means replenishing good glycogen reserves, while providing the proteins necessary to repair muscular microtrauma. The extraordinary work of our team of cooks is essential, but when it comes to going fast, there is nothing like a recovery drink. With the Total Energy Recovery> drink, whose formulation is very complete, both for the contribution of specific amino acids, and vitamin C.
Photo: Courtesy of ©Fred Machabert/ypmedias.com